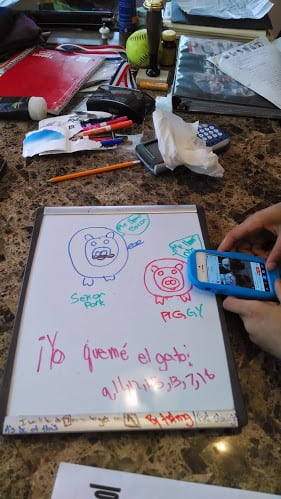 A 21st Century solution using mobile technology and a dry-erase board.

No Wayback Machine required…

My academic therapy students are teens and young adults with LD and ADHD. They dislike reading, but they hate math more so today we'll take a trip to one of my Algebra 1 sessions. It's tough to keep a teenager with ADHD on task at stressful times of the year.
"What's on your mind, sweetie?" Barking back, "NOTHING!" Okay Edie, choose your battles wisely. "Starting off, what do you need to do?" Whining, "Write my objective…" Deescalate. "Don't forget your dry-erase board, marker, and eraser." A dirty look, but I smile because she gave up easily. Mom supplies a dirty look of her own from the kitchen with the why-can't-I-do-that glare. Luckily, not at me. Considering it seems to only ever be the dry erase boards that seem to get Edie in a mood ready to learn and work, I'm thinking Mom should look about a little more and Buy Dry Erase Boards of different types so Edie tries to engage with her various work sessions a little more.

My student draws a pig that is speaking Spanish. "So you're worried about your Spanish midterm." Smile. Smile back. She writes the objective on the bottom border. "Look at every question on your exam-prep packet and do the ones that you're sure about." Never happens…pig #2.
The back-and-forth continues, this time with videos on YouTube. In spite of the ridiculous trending ones, she does access her mind-map videos to troubleshoot. She answers one, then the reminder…"The world's best mathematicians use calculators." She takes the hint.
Pigs…videos…pigs…videos…writing just Spanish…insert math too. This section of the session ends with a list of questions that we can attack together.

90% of American adults have cell phones. +Pew Research Center Teachers can exploit the availability of mobile technology using BYOD (bring your own device). Set rules of engagement and let the learning begin. Be firm. Take the phone away from your best student. Equality, same rules for everyone.

Combining mobile technology with good 'ol dry-erase boards provide the best of both worlds. BYOD cuts down on cost and teaching students technology. Our students need to learn how to ask for help. Try this strategy, but be ready for a confrontation. It's worth it though…a path to empowerment. Yipee!