Many symptoms between ADHD and Autism overlap. One major symptom is being unable to pay attention and sit still.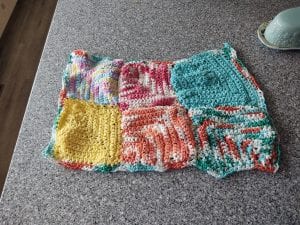 For many, it's very painful to pay attention and sit still, unless they can keep their hands busy. There are many fidget toys available but for some, fidget toys don't work. Some people need other low-tech items to keep their hands busy. 
It isn't recommended to play video games or text on your phone or tablet, because texting and video games during activities that you need to pay attention to, only distract you. 
I draw and color on my Moto Z4, or on paper, or I crochet. Fidget toys never worked for me, so I carry a few skeins of yarn, crochet hooks, and a Lenovo Chromebook.  I carry a large handmade Motorola bag that fits everything in it. I also carry a few Moto Mods for my Moto Z4 too. Instead of carrying a DSLR, I carry a telephoto Moto Mod and a 360-degree camera Moto Mod with me.
I also take my Nintendo Switch and Nintendo 3DS and their games with me to play in the car or while waiting for things in the store or during appointments. 
I cannot sit still in meetings or during church or TV time, so I crochet in between taking notes. I'm working on a multicolored table-topper, so during those times, I've been making squares for it. I have to keep my hands busy, otherwise, I bite my nails until they bleed.
Sitting still creates so much anxiety to the point of biting my nails, so I always keep yarn and hooks with me. I'm going to learn how to knit at some point, too. I also do paint by number or cross-stitch in my Moto Z4 as well.
I don't believe in playing games in church. Too many kids are allowed to and it's not polite. It's better to color or crochet instead. When you're playing games in church, it takes away your concentration and you don't absorb what's being said. I usually take some yarn crafts with me instead. I also enjoy making things with yarn and plastic canvas, so I keep some of that in my bag too. I pre-cut the pieces I'm going to make before leaving the house, and then make the pieces in the car or meetings. 
Studies have shown that keeping your hands busy with low-tech activities such as drawing or yarn crafts, helps improve concentration for those who can't sit still. 
When I was in school, I got yelled at for drawing in class, which was all I had to do when I couldn't sit still. I lost count as to how many times, my teachers would threaten to take my colored pens away. I fought them over wanting to take my pens away, but not physically; and insisted that I needed them. 
When I was in school, smartphones and tablets didn't exist and we weren't allowed to have electronics at school. I had a flip phone and iPod but had to keep them put away, so I had to find something else to keep my hands busy, which ended up being my sketch pads and pens. 
It isn't ok for a teacher to assume that a student is being disrespectful or not paying attention when they are keeping their hands busy with low-tech activities. Sitting still is painful for many, and they need to understand that. 
I took medication for my ADHD in hopes of helping me pay attention and sit still, but it only helped a little bit with paying attention. I still couldn't sit still without keeping my hands busy. 
I had to go off the medication because it was affecting my heart and sleep. I didn't sleep well with that medication at all. The side effects with ADHD meds were terrible, but it did help me absorb more information than I do now. 
Medication doesn't work for everyone, and it shouldn't be the only treatment. Activities that are enjoyable and help with focus, are very beneficial. 
As my crochet/knitting teacher says, "Idle hands are the devil's workshop". That's very true for people who cannot sit still. Being unable to sit still doesn't make a person naughty, it just means they need stimulation while listening or watching things. There is nothing wrong with that! 
What do you do to stay focused? Knit? Crochet? Art?
Please let us know in the comments!