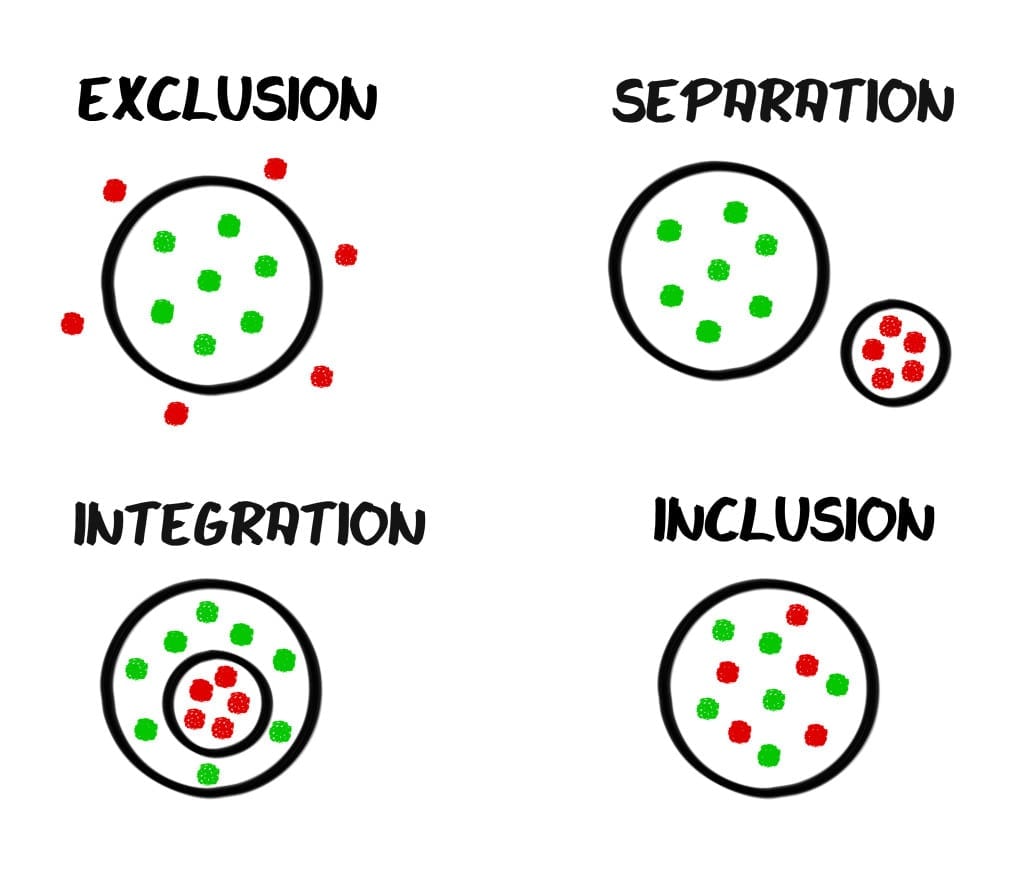 Good things happen when students with and without disabilities learn together. Inclusion is an all-embracing societal ideology. It rejects the use of special schools or classrooms for students with disabilities.
In inclusive classrooms, all students belong, are equally valued, and deserve the same experiences and opportunities. They learn by being together, improved by diversity. Students with ADHD further benefit by having an ongoing focus on social interaction.
Off to the front lines of teaching pre-algebra to an inclusion class…
(First day of school) How can this be happening? Teaching with a Special Education teacher. Does he even know math?
Bell rings. Class starts. Wait! He's taking a swarm of kids out the door! Calmly I ask, "Where are you going?" Frustrated he answered, "I'm doing pull-out." Duh…"What's that?"
They walk out.
Students with ADHD benefit from a variety of inclusion models.  "Push in:" Special ed teacher provides instruction and supports the students with disabilities (in the classroom). "Full inclusion:" Special education teacher is a full partner with the general education teacher.
To be successful, co-teachers must meet together to integrate IEP/academic needs. Planning should establish respective responsibilities, as it is critical to share the workload. For students with ADHD, special focus should be based on skills, abilities, and talents.
All children learn in different ways.
Every child has the right to be included.
Visions of a typical life can be attained.
Students learn academic and social skills simultaneously.
A nurturing environment develops a positive understanding of self and others (diversity).
Inclusive classrooms represent different abilities and cultures. Some focus on the academic and behavioral challenges.  It can, however, manifest as 2 groups: "my kids" and "your kids."
"Our kids" get frustrated by the challenges faced by high expectations.  They need advocacy, planning, support, and commitment to discover success.
Have you seen students with ADHD segregated from the rest of the class? What did you do?